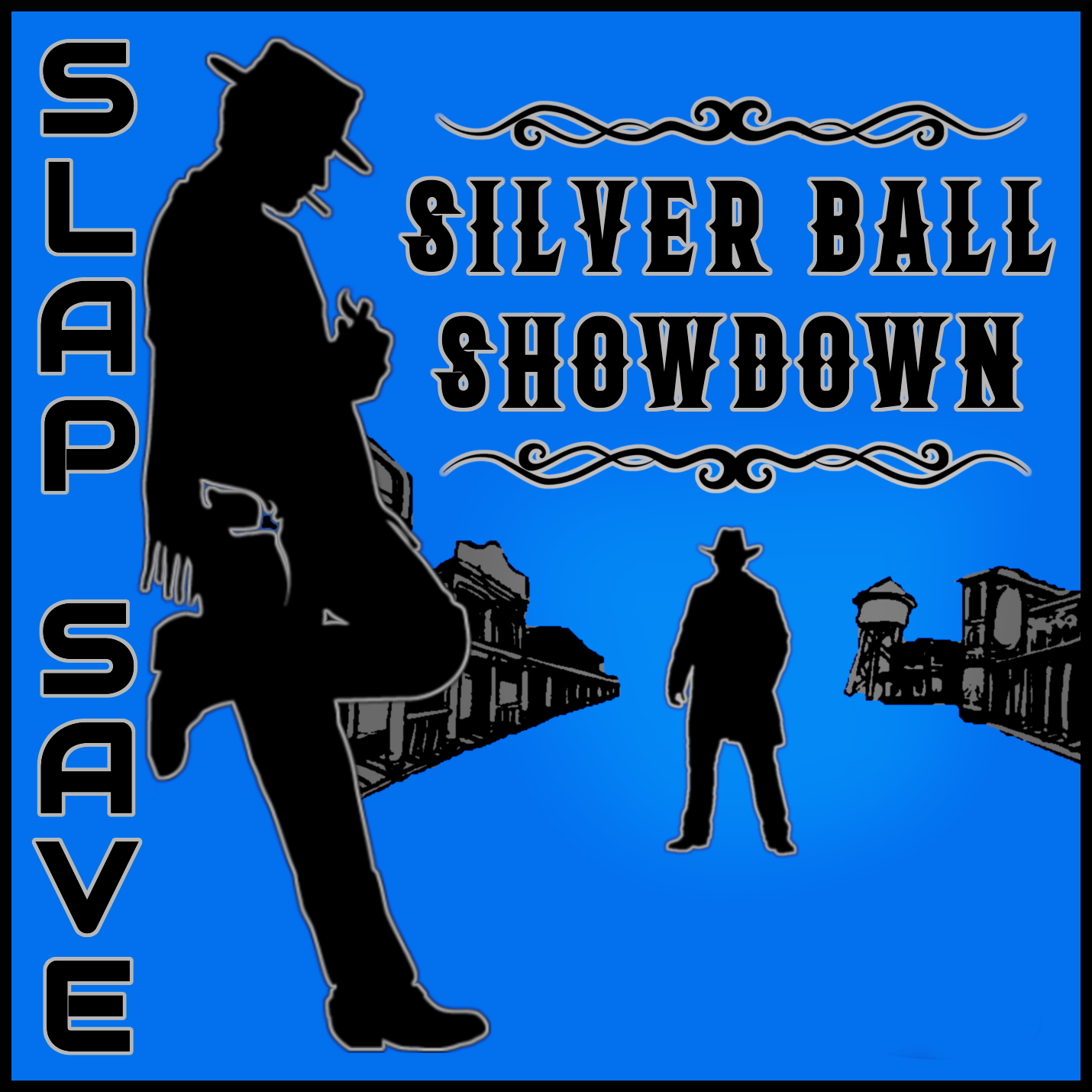 **The Slap Save Pinball Podcast is rated PG-13 by the MPAA (Misguided Pinball A-Holes of America)*** 
Episode 24 of the Slap Save Pinball Podcast, Silver Ball Showdown.  Where EVERY moon is a full moon.  Jason Fowler, Matt Koenen and THE Christopher Franchi (and his partner in crime Barlow) talk pinball, drop some opinions AND some inside tidbits (including EPIC art from Leonardo Da Franchi).  This episode rundown:
1.) Industry News (or at least what little there is) including a discussion of Cosmic Carnival's latest improvements.
2.) Summary of What is New with Jason and Matt.
3.) The SILVER BALL SHOWDOWN, a new segment that features Matt and Jason having a debate over a Pinball Machine, in this case Twilight Zone with a twist.  Gillian, the gorgeous, red-headed nymphomaniac who lives in Jason's phone, randomly assigns one host who has to defend it, and one host who has to trash it by a coin flip.  We have a BLAST defending/attacking the game... and attacking each other.   WHO WON?  You can decide by telling us on our facebook page, emailing us, or calling our voice comment line and we will tally them and let you know next week.   
4.) Around The Playfield w/ Chris Franchi & Barlow has what might be the best segment yet with his trademark humor AND he drops some art that he had completed as a mock up to try to entice an IP to be made.  You will NOT want to miss this.  Make sure you contact Chris with your comments, questions and suggestions at playfieldquestions@gmail.com.  Also, check out our Facebook page to see the art referenced starting at 9pm eastern on Monday, May 13th.       
5.) The Full Plunge: Online Connectivity Matt & Jason talk about the potential upside and downside of online connectivity.  
If you would like to show your support of our juvenile behavior that we call a podcast, our online store featuring T-Shirts and other ways you can show you are proud SSPP family is now LIVE! You can find the link on our facebook page, or here: Slap Save Pinball Podcast Merchandise
Need a new pinball machine, or perhaps an Escalera?  Make sure you give Zach Meny a call at Flip N' Out pinball, the Premiere Sponsor of the Slap Save Pinball Podcast.  The guy is absolutely wrecking it when it comes to service, selection and a willingness to go the extra mile. Contact Zach at 847.778.4876 or via email at zach@flipnoutpinball.com
As always, you can contact us via:
Email: slapsavepinballpodcast@gmail.com
Franchi's email: playfieldquestions@gmail.com
Facebook: Slap Save Pinball https://www.facebook.com/slapsavepinball/
Automated Voice/comment line: 314.529.1875
Instagram: Slapsavepodcast https://www.instagram.com/slapsavepodcast/
Pinside: https://pinside.com/pinball/forum/topic/the-slap-save-pinball-podcast-thread/
sdtminstl (Jason)
mskoenen (Matt)
Huge thanks to the incredible and ridiculously talented DJ Quads for the beats.  Check out his music here. https://soundcloud.com/aka-dj-quads