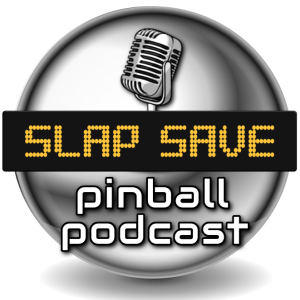 In episode 60 of the Slap Save Pinball Podcast we look back at 2019 and summarize the current state of pinball.  Chris has somehow still avoided a temper induced aneurysm, and this time goes off on a tangent about the announcement of a game he's not thrilled with.  We tackle Sterns Wifi updates and it's consequences, tournament hacks using the same system, the effect of last years Sales Tax and talk about A LOT of games that have hit the market since we started this jalopy just over *1 year ago.  We hope you enjoy this unique, special edition of our podcast and thanks for joining us on the ride. Sorry for the issues with Chris's sound quality.  We have it figured out and it will be fixed in the next episode. 
If you would like to be immortalized in the annals (not anals, one "N" makes a huge difference people) of our podcast, please consider contacting us via the Google Voice number below or send a clear audio file to our email account and leave an intro that we can use for the next show.  Just say your name, your general location and announce the podcast with the following line:
"Hi, I'm (insert name here) from (insert location here).  Welcome to the Slap Save Pinball Podcast with your hosts, Chris Hoeper and Jason Fowler!"
For a limited time, anyone who sends in a audio file of the intro, or calls in an intro, will receive a free magic SSPP sticker via mail that you can affix to your minivan or private jet that is guaranteed to make you irresistible to anyone or anything you desire, except blue eyed people and marsupials. We are currently working on a fix.     
**PLEASE NOTE** There is still time to enter our Pinstadium Giveaway and the Drawing will be held on episode #9 next week!  See below for entry instructions.
PINSTADIUM ENTRY INSTRUCTIONS: (U.S. Only)
1.) Like our facebook page share the contest post (worth 2 entries) 

2.) Follow us on instagram and LIKE the post (worth 1 entry)  https://www.instagram.com/p/BsrQ6ielhHj/

3.) Follow us on twitter and retweet the contest post https://twitter.com/slap_save_/status/1085342112739221504

4.) Send us an email with a request for the podcast (worth 1 entry) slapsavepinballpodcast@gmail.com

As always, you can contact us via:
Email: slapsavepinballpodcast@gmail.com
Facebook: Slap Save Pinball https://www.facebook.com/slapsavepinball/
Automated Voice/comment line (Jason's note taking Mom?): 314.529.1875
Instagram: Slapsavepodcast https://www.instagram.com/slapsavepodcast/
Twitter: Slap Save Pinball Podcast https://twitter.com/slap_save_
Twitch (Chris streaming pinball in his ridiculous hats): slap_save_
Pinside:
kidchrisso (Chris)
sdtminstl (Jason)
Huge thanks to the incredible and ridiculously talented DJ Quads for the beats.  Check out his music here. https://soundcloud.com/aka-dj-quads
*one year ago in time travel